I would like to propose again my considerations I shared a couple of months back when I was interviewed by ICS-Digital Agency in Leeds about where the SEO and Search Marketing is going to after these unprecedented times we are still all living around the world.
As we know, the Pandemic has changed our lives and our habits as human being in our daily life but also in how we perceive the way we work. All of this, has had (and still having) an impact in our professions as search marketers and SEOs. You can imagine why.
As professionals who work with other people minds (how they search, how they intend to search something or buy something or quench their thirst of information) and assuming that, we had to adapt to this new reality that the Pandemic has brought; because all of this has definitely changed something for the users, but also for the companies or small enterprises that have a business online.
The Pandemic has accelerated the need to buy online and have the items delivered to our door (no matter what, if electronics, clothes, food and so on) we find then more valuable have our orders directly to us, instead of us to our orders.
Yes, some of the customers may think that there are items that they still think you should fiscally see first before purchasing, but the trend has dramatically changed the vision of buying goods.
E-commerce topic trend worldwide*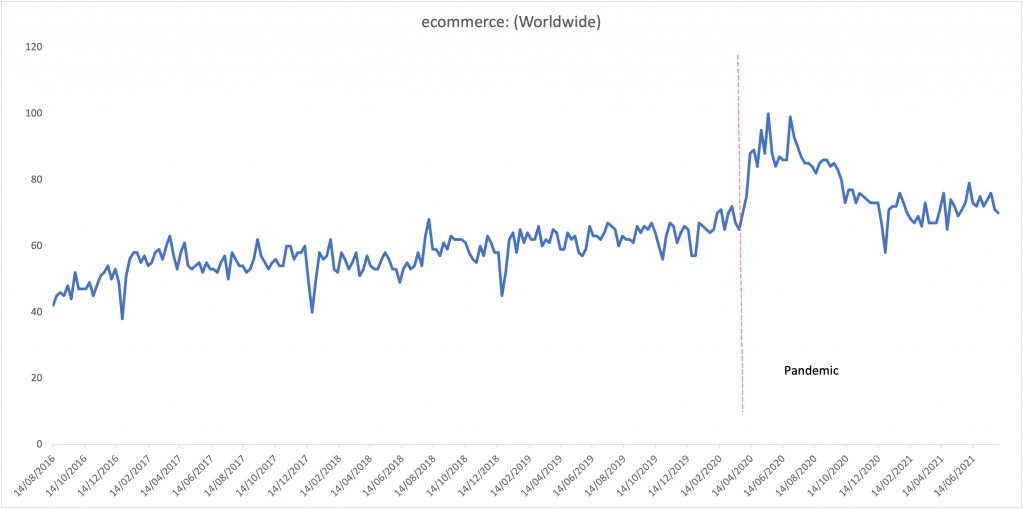 E-commerce topic trend worldwide forecast to 2025 (Linear Regression)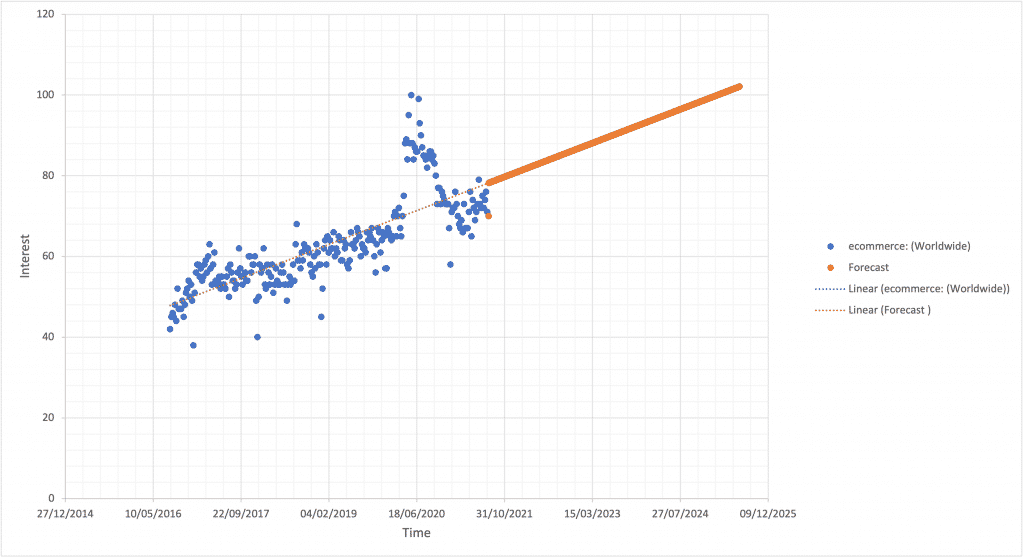 SEO topic trend worldwide*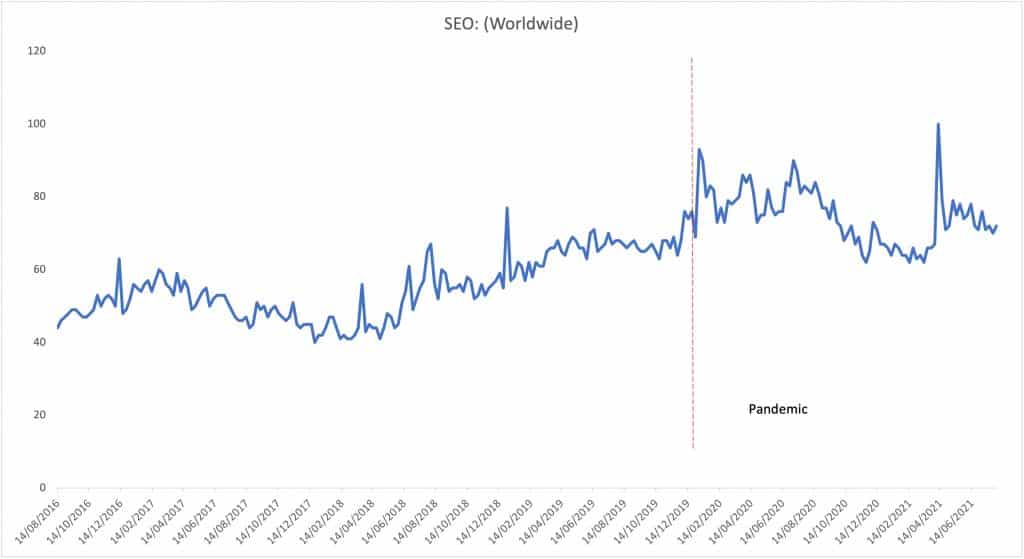 E-commerce topic trend worldwide forecast to 2025 (Linear Regression)
What (as SEOs and Search Marketers) we have learned from this scenario
New different ways of searching have been brought from this shaping of the World. New search intent, new keywords, new queries typed and new content that users want to consume based on what they have experienced lately.
For the travel sector, new information regarding the safety in the hotels, B&B, resorts etc. have been included in the queries; new style of travel, less crowded places, and the possibility to include a cover before flying away.
For the fashion industry, a lot has changed. The different style of wearing clothes; the style has become more simple, less formal, and an attention towards organic clothing brands and speaking of competing digital strategies, free shipping, and free returning. Especially these are the ones one can beat the competition when comes to e-commerce.
Even cars industry registered an increase in selling online in the first months of the Pandemic. Nearly 10% of the cars were sold compared to before.
Almost any industry has changed as Google stated in this interesting article has published lately.
Another thing we have learned from this this period, is that we have to use in our daily work predictions and forecast not just in the medium term but in the long run. Doing a lot of budget forecast will prevent us not to be in a difficult position when some unprecedented things may come along and something unforeseen happens.
Having some good predictions can save us from shaping the strategy entirely and have time to hold on with the current strategy without the need of regain everything we have lost.
Think and use a What If Strategy. Test.
Use predictive and prescriptive analytics in your Digital strategies.
Budget your ROI constantly.
What about the Future
I personally think that the Digital world will become even more sophisticated, with a lot of analytics and statistical models. Those who use this will be more competitive in the years to come.
No one wants, and first our clients and enterprises (small and big) want to lose money in performing a Digital strategy.
Most of the time we think (and we are certainly right) that with a Digital strategy we can't guarantee anything because a lot of things can happen, and we have no power over them as professional strategists. But filling the gap means a lot for everyone and we can give the clients some peace of mind.
Improve your analytics and statistical skills and do predictive analysis. This is where search marketers should improve or learn. Big Data, Machine Learning, and statistical models. This will help you also understanding Google algorithms and work with them to improve and predict your clients conditions.
Digital, in my opinion, is the channel businesses have to invest in order to navigate the road ahead and have more ROI.
We, on the other hand, have to be able to give them a safe place where they can seat looking at their business improving.
*Google trends data